Nowadays, have many types of camera for hunting on the market, so to choose the 11 best trail camera, hunters need to read trail & game camera reviews in detail.
Here's Top 11 Trail Game camera buyer's guide 2016:
1.Pro-Cam 12 from Muddy
Day or night, still images or video, the Pro-Cam 12 from Muddy ($119.99; www.gomuddy.com) is equipped to do it all. With a detection range of 70 feet and a flash range of 60 feet for nighttime images, the Pro-Cam 12 also features 1280×720 HD video with audio capabilities. Full color 12MP day images and 5MP monochrome night images ensure you won't miss a shot at any time during the 24-hour day. The casing is waterproof with a non-reflective bark pattern to keep it concealed in the field. Complete with an LCD screen and an invisible flash, trigger speed is 0.6 seconds.
2. Trophy Cam HD Aggressor Wireless from Bushnell
All your scouting can be done via smartphone thanks to the Trophy Cam HD Aggressor Wireless from Bushnell ($514.95; www.bushnell.com). Completely upgraded for 2016, hunters will see improved nighttime images, high-resolution 14MP daylight photos with top-notch clarity and daily location updates from a working GPS. You're at the controls with the free iPhone and Android apps, as well as expanded AT&T coverage. Other changes include a new case design with an easy-open latch, and a new price tag that will save you $100 from years past.
3. Primos Trail Camera
You want simple? Primos has it in the form of the Bullet Proof 2 ($86.95; www.primos.com). Whether you're new to trail camera altogether and want to ease into the market or simply don't use the majority of features that come in other high-priced models, this is for you. The steps couldn't be easier to follow: insert four AA batteries, put in your SD card and turn the camera on–that's it! The Bullet Proof 2 has a 45-foot nighttime range, nine months of battery life and captures 8MP images and 720p video. Trigger speed is less than a second, and the camera has a one-year warranty.
4. Stealth Cam G Series
Ten percent smaller than the original G Series comes the G45NG Pro from Stealth Cam ($199, www.stealthcam.com). Featuring a camouflage pattern with a dull matte finish to eliminated glare, the camera will now shoot up to 14MP images with 100 feet of invisible nighttime illumination range. Also new for 2016, users have the ability to re-write the SD card should it fill up before you can switch cards. This allows you to keep the most current images while eliminating the oldest. The Reflex Trigger is less than half a second, and HD video records from 5-180 seconds with audio.
5. Wildgame Innovations' CRUSH 20
When you're taking a look at the long list of features included in Wildgame Innovations' CRUSH 20 LightsOut Invisible Scouting Camera ($199.99; www.wildgameinnovations.com), it's hard not to stop at the 20MP processor that will produce top-of-the-line photos. But nothing stops there, as the camera also is capable of 30-second HD 720p video with full audio, a flash range up to 100 feet and a one-second rapid trigger speed. Branded by Lee and Tiffany Lakosky, hunters will also enjoy a wide-angle option, and full-color TFT viewing capabilities.
6. Spartan GoCam from HCO Outdoors
Clearly, the major benefit of having a Spartan GoCam from HCO Outdoors (www.hcooutdoors. com) is having the ability to see what's happening in the woods via the Verizon, AT&T or Sprint networks without actually being there. For 2016 though, it's gotten even better for Verizon customers, as the camera can now be added to an existing data plan for just $5. What this means is that users will now have full Verizon support on both technical and sales matters. The Spartan GoCam is still motion or timer activated, and can be controlled from anywhere through the GoWireless Web Portal.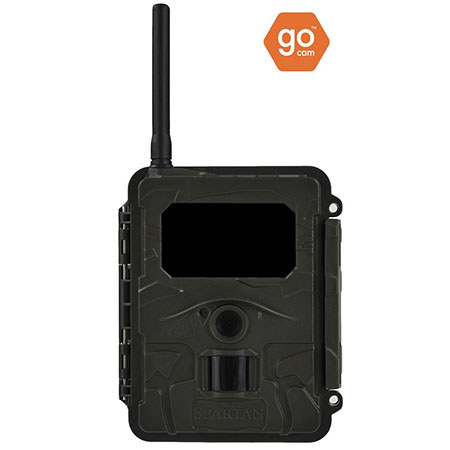 7. Cuddeback's Long Range IR and Black Flash
Cuddeback's Long Range IR and Black Flash cameras ($150; www.cuddeback.com) feature the company's famous '/i-second trigger speed and outstanding 20MP image quality. Zone-control detection lets you capture a wide-angle view in expansive areas, or centered view for trails or feeders. There are separate delays for day and night imagery, and an advanced time-lapse mode can be set from 10 seconds to 24 hours during daytime, nighttime, or both. These features all come in a compact design run by eight AA batteries.
8. PlotWatcher Pro
Depth of field is the name of the game for the PlotWatcher Pro from Day 6 Outdoors ($229.99; www.plotwatcher.com). If you're looking to scout more of your food plots or mineral sites, this is most certainly the camera for you. It accepts add-on telephoto and wide-angle lenses, and features a 2.5-inch LCD screen for camera setup and status messages. Tru-Video is also included so that images are automatically compiled in video format, making it easier and quicker to review your footage. Batteries will last up to four months, which Day 6 advertises as longer than any other time-lapse camera on the market.
9. Strike Force HD Elite from Browning Trail Cameras
The smallest high-performance trail camera in the hunting industry, the Strike Force HD Elite from Browning Trail Cameras ($149.99; www. browningtrailcameras.com) features a trigger speed of just 0.4 seconds and a recovery time of just 1.5 seconds. Other features include 10MP images, 1280×720 HD video with audio, infrared LED nighttime illumination and a 100-foot flash range. The case size is just 4.5×3.25×2.5 inches, and users will enjoy a new SD card memory management option that allows users to overwrite the oldest images when the card is full.
10. Moultrie Mobile System
The new Moultrie Mobile System is an advanced trail-camera system that will allow hunters to view images and control cameras remotely via wireless data networks. Using the MV1 Field Modern ($199.99, www.moultriefeeders.com/moultriemobile) that can be moved from camera to camera–including most of Moultrie's 2015 models hunters will be notified through text, email or the free Moultrie Mobile App when new images are captured. Organize, analyze, and manage your photos via the aforementioned website at affordable monthly plans that require no contract, commitment, activation fee or cancellation fee.
11. Kodiak Cameras
New for 2016, users of the Kodiak Cameras from Comanche Outfitters ($259.99; www. kodiakcamera.com) can expect download speeds 15 times faster than before with the new Kodiak Viewer app update. Of course, the Kodiak Series still offers the only cameras on the market with fully integrated WiFi capabilities. What that means is no more pulling SD cards, plugging into computers or carrying laptops into the field. Simply walk or drive within 200 feet to download your images without the need for cell service or monthly fees.